Happy Wednesday!
Damn, it has been a while since I hopped on the WIAW train, and I decided today would be a good day to. Well, technically it should be what I made Wednesday, since it's recent recipes I cooked up! I ate them too, so that counts obviously, just not all on Wednesday.
I love Jenn, and excited to join her link up again!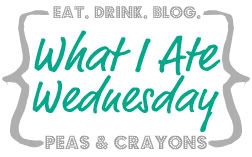 Remember I shared dinner on Sunday night for MIMM? Well that was a meatloaf recipe I got off pinterest, and tried.
I went off this recipe here, but I added just spinach, one egg, garlic and herb, coconut aminos, and laughing cow garlic and swiss cheese!
Oh, and I only used 1lb ground turkey too!
It turned out really good!
I will be making it again! I am proud I finally made some recipes I have pinned, since I have soooooo many I want to make. I often go on pinning sprees, and can't be stopped.
Yesterday it was a snowed in day, and I had two very ripe bananas to be used for something. I decided to go to pinterest to see what I could make, found this recipe I recently pinned. Perfect!
Now mine did not look like little balls, more like oat cluster cookies. SO GOOD!
I used this for chocolate since I am out of chocolate chips ( very sad )
The recipe made 9 cookies, so delicious!
1 cup oats, chocolate chips or crushed up chocolate, 2 ripe bananas, and a big spoon of pb!
( I actually used my real camera to photo these, need to use it more! )
They are awesome, and easy as ever to make! Will be making these again!
Last thing I made, well can't consider this homemade….
I got some pretty awesome protein pancake mixes to try this past weekend, I will be making some pancakes with some of the other flavors I was sent. I decided to do some donuts with the banana hazelnut mix I got, since it is not National Pancake Month yet! Look for me to be celebrating that with FlapJacked next month, excited!
All you do is combine the mix and 1 cup of water to make some yummy pancakes, bread, or donuts…..
They came out great! I had three this morning for breakfast topped with a greek yogurt pb frosting, mmmmmmmmm!
FlapJacked I am hooked already, can't wait to make some awesome pancakes next month with the apple cinnamon and buttermilk flavors!
I would say that was a successful "What I Made/Ate Wednesday" for sure!
Wishing all of you a great day, temps are below zero over here so we plan on staying in. Unfortunately I do have to run my car to the dealer for yearly inspection, but after that is done I will be hibernating, and meditating/yoga at some point too.
See ya later!
Katie xo
**CORE POWER WINNER –  #12 Becky Johnson
Anyone else go on recipe pinning sprees, yet never quite get to making the recipes you pin?
If you are on pinterest, what do you pin the most? I pin lots of recipes, inspiration, and beauty stuff!